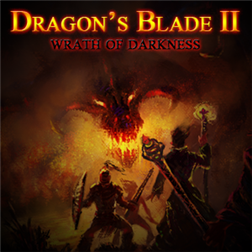 Welcome to the Dragon's blade 2 Wiki
Dragon's blade 2 is great game for Windows Phone, sequel to popular Dragon's Blade. Free, with ads; cheap without.  Seventy five levels, lots of bosses, easy to level up and go forward. Foraging and alchemy to make potions and free infusing or paid with game money enchanting equipment at higher levels. Eight towns, hundreds of unique monsters, eleven classes. Just have fun from playing Dragon's Blade 2 and if don't know something search here!
Important Internal Pages
EXTERNAL LINKS
Dragon's Blade 2 (free for Windows Phone)
Dragon's Blade 2 (paid for Windows Phone)
Ad blocker interference detected!
Wikia is a free-to-use site that makes money from advertising. We have a modified experience for viewers using ad blockers

Wikia is not accessible if you've made further modifications. Remove the custom ad blocker rule(s) and the page will load as expected.